Happy Independence Day
9 Ugandans Who Deserve Their Own Biographical Movies
By
|
Queen of Katwe premiered in Kampala just the other day. A powerful story depicting the life of Phiona Mutesi, a Ugandan chess prodigy from Katwe who becomes a Woman Candidate Master after her performances at World Chess Olympiads. Uganda is blessed with a rich history, and there're many stories that can be written out of that. Many of these go untold, and those we let Hollywood tell, are often times coloured by errors. As we celebrate Independence day today, allow us to share some few Ugandans who deserve Hollywood-worthy biographical movies. Why wait for Hollywood to tell our stories yet we have a growing a movie industry, great talent and all these captivating stories?
Omukama Kabalega of Bunyoro
Kabalega, ruler of the kingdom of Bunyoro between 1870 and 1898, was one of the major figures in late nineteenth-century eastern Africa, noted for both his remarkable military reforms and the prolonged resistance he offered to the British during their conquest of Uganda. On 1 January 1894, the British declared war on Bunyoro. For five years, Kabalega was able to fend off the British, who had enlisted help from other countries including Somalia and Nubia. On 9 April 1899, Kabalega was shot by the British, who captured him and Kabaka Mwanga of Buganda. Kabalega was exiled to the Seychelles for 24 years. In 1923, he was given permission to return to Bunyoro but died in Jinja on 6 April 1923, shortly before reaching the borders of the kingdom.
Miria Obote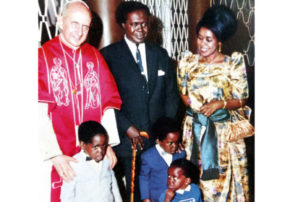 Miria Obote is the first female presidential aspirant in Uganda. She was First Lady twice and widow of former president Milton Obote who was President of Uganda from 1966 to 1971, then again from 1980 to 1985. He was overthrown by Idi Amin in 1971 but regained power after Amin's 1979 overthrow. A Muganda woman, married to the man behind the military attack on the Kabaka (Buganda King)'s palace in 1966. It would be interesting to see what her life was like in the shadow of her husband, how she managed to raise her children whilst  in and out of exile. Miria Obote returned to Uganda from Zambia in October 2005, after 20 years in exile, to bury her husband. Two months later, she was elected as head of the Uganda People's Congress (UPC) and as its presidential candidate for the 2006 elections.
Alice (Auma) Lakwena
Alice Auma was an Acholi spirit-medium who, as the head of the Holy Spirit Movement (HSM), led a millennial rebellion against President Yoweri Museveni's government from August 1986 until November 1987. The primary spirit she purportedly channeled was that of a dead army officer called "Lakwena", meaning messenger, which the Acholi believe to be a manifestation of the Christian Holy Spirit. The combined persona of Alice Auma channeling the spirit Lakwena is often referred to as "Alice Lakwena".
Auma remaining childless after two marriages, she moved away from her hometown. She eventually converted to Christianity but, on 25 May 1985, she reportedly went insane, unable to either hear or speak, later claiming to have been possessed by the spirit Lakwena. Her father took her to eleven different witches, but none alleviated her condition. Lakwena claimed Auma then guided her to Paraa National Park, where she disappeared for 40 days and returned a spirit-medium.
Auma led the HSM south out of Acholiland towards Kampala. There, she garnered much support from other ethnic groups that had grievances with the Museveni government. However, subsequent military setbacks suffered by the HSM prompted some followers to accuse Auma of being a witch and of using spirits for destructive ends. As the HSM suffered its final defeat under artillery fire in the forests near Kampala, Auma fled and claimed Lakwena had left her.
In 2006, she claimed to have discovered a cure for HIV/AIDS. She died on 17 January 2007, after having been sick for about a week with an unknown illness claimed to be HIV/AIDS.
Aamito Stacie Lagum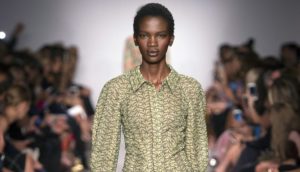 In 2013, Lagum, then a rookie model in Kampala, decided to take part in one of the castings calls for Africa's Next Top Model taking a 16-hour bus ride from Kampala to the city of Nairobi, Kenya. Upon being interviewed, the model quickly caught the eyes of the host, Oluchi Onweagba. She was later called by Onweagba herself and was chosen to fly to Cape Town as one of the twelve finalists for the show.
Due to her unique look and physique, Lagum quickly gained notice from the judges and guests of the show, winning several best photos along with the opportunity to appear in a spread for Elle South Africa for having received best picture in week 9.  Lagum made it to the finale on the tenth week of the competition, having made no appearances in the bottom two. After a casting session with DNA Models, she was crowned as the winner of the show.
After a short stint in South Africa under Boss Models, she signed with DNA Model Management and relocated to New York City. Lagum debuted in the F/W 2015 season, walking for the likes of Lacoste, Marc by Marc Jacobs, J. Mendel, Rag & Bone, Giles, Jonathan Saunders, Paul Smith, and Bottega Veneta. She then went on to open for Balenciaga in Paris, making her the first model of color to open the show under Alexander Wang. She continued her streak, booking more shows like Lanvin, Dries van Noten, H&M, Giambattista Valli, and Hermès.
Currently, she's one of the busiest models in the industry.  She has appeared in different magazines like i-D, Interview, Love, W, Ukrainian, British, German, and Spanish Vogue, and Vanity Fair; as well as an advertorial for Kenzo and an advertising campaign for Marc Jacobs, shot by David Sims.
Aamito is only 23 years old.
Philly Bongole Lutaaya
Philly Bongoley Lutaaya (19 October 1951 – 15 December 1989) was a Ugandan musician who was the first prominent Ugandan to give a human face to HIV/AIDS. Before succumbing to AIDS, Lutaaya spent his remaining healthy time writing songs about his battle with AIDS, releasing his last album Alone and Frightened, including his famous song "Alone", as well as touring churches and schools throughout Uganda to spread a message of prevention and hope. Lutaaya was popular in Uganda in the 1960s, and in the 1970s he toured the Democratic Republic of the Congo, Kenya, and Japan. In the mid-1980s, he settled in Stockholm, Sweden. There he recorded his hit album Born in Africa, which is still popular in Uganda.
Lutaaya's Christmas Album, produced in 1986, remains his most popular album to date. The album, whose songs were written in native Luganda, remains part of a strong Christmas tradition in Uganda. It included classics such as "Tumusiinze", "Gloria", "Merry Christmass, Oh Happy New Year", "Azzaalidwa", and "Zukuka" among others.
Richard Arinaitwe
A first year Law student at Makerere University who had passed with flying colours to join university and from an affluent family residing in the leafy suburbs of Kololo, Arinaitwe seemed to have had it all in life. But it is in their house that Arinaitwe, who claims he was on an assignment to kill, hid after committing crime.  Before his highly publicized trial over the murder of an American volunteer Cecilia Maria Goetz, he had been involved in so many other crimes.
Richard Arinaitwe had been involved in the robbery of Speedbird forex bureaux in the Sheraton Hotel. The senior members of the gang were locked up in Luzira while Arinaitwe as a juvenile was sent to Kampiringisa for rehabilitation. He was also behind a spate of theft at Rugby club around Lugogo, often stealing money from clothes left behind by Rugby players. There were a series of other cases that had been linked to him but were not reported to police. When police searched his room at his father's house in Kololo, they discovered a string of crime novels among which were James Hardly Chase, James Bond films among others. Police watched the movies to try and read into Richard Arinaitwe's mind and found them to be horrific. Police also recovered a calendar from Richard Arinaitwe's room and found that on July 28, 1998, the day  Cecilia Maria Goetz was murdered, he drew a picture of a skull and two bones crossing similar to the one usually seen on electricity poles and marked it 'Kabi Danger Hatari.'
Richard Arinaitwe is currently somewhere incarcerated in a prison within a prison at Luzira Maximum Security Prison (Upper prison).
The Obsessions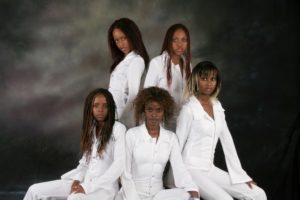 Ronnie Mulindwa and his teenage friends plot a plan to transform Uganda's entertainment as they put their free time to use to save themselves from their raging hormones of adolescence. They start a music and dance group called The Obsessions. The group slowly grows into one of the most successful music productions in Uganda. They put on some of the best modern theater productions in Uganda's entertainment history such as "Princess Miana, "Cleopatra", "Heart Of A Dancer", "Legend Of The Scepter", "Queen of Sheba", "Before Adam & Eve" and "Return To Innocence", "Spirit of the Sun" all written by Ronnie Mulindwa. The group goes on to have an even more illustrious career in music, with chart topping songs and music videos such as Nod Yo Head, Dance With Me, U and Me, Wekuume and Jangu Jangu. They get nominated and win awards here in Uganda and beyond.
At the peak of their fame and popularity, a local entrepreneur invests in the group in pursuit of professionalizing it to reach international standards. That's when everything turns round. Under the new management, the group slowly fades into a total shadow of its former self. All attempts to save it fail miserably as group members quit one by one till it's no more.
Later, former members dominate the entertainment industry pursuing solo careers with Cleopatra Koheirwe in radio and tv, Sheeba Karungi in music, Brenda Nambi in fashion, Natasha Sinayobye and Hellen Lukoma in film and the founder Roni Mulindwa in dance and theater. Not a very sad ending, after all!
Kabaka Muteesa II of Buganda
Major General Sir Edward Frederick William David Walugembe Mutebi Luwangula Muteesa II KBE (19 November 1924 – 21 November 1969), was Kabaka of Buganda from 22 November 1939 until his death. He was the thirty-fifth Kabaka of Buganda and the first President of Uganda.
In 1953, the Lukiiko (Parliament) of Buganda sought independence from Uganda, with Mutesa himself demanding that Buganda be separated from the rest of the protectorate of Uganda and transferred to Foreign Office jurisdiction. The then British rulers' response was to depose and exile the Kabaka, creating massive protests among the Baganda. Mutesa's forced departure made him a martyr in the eyes of the Baganda, whose latent separatism set off a storm of protest.  After two years of unrelenting Ganda hostility and obstruction, they were forced to reinstate the Kabaka, who returned to Kampala on 17 October 1955.
When Uganda attained independence in 1962, he was made the president of Uganda but with no executive powers under a coalition government with Dr. Milton Obote who was the Prime Minister. However, this relationship didn't last long. In 1964 the coalition between Mutesa and Obote collapsed over the question of a referendum which transferred two counties from Buganda to Bunyoro. In 1966 Mutesa's estrangement from Obote merged with another crisis. Obote faced a possible removal from office by factional infighting within his own party. He had the other four leading members of his party arrested and detained, and then suspended the federal constitution and declared himself President of Uganda in February 1966, deposing Mutesa.
The Buganda regional Parliament passed a resolution in May 1966 declaring that de jure Buganda's incorporation into Uganda had ended with the suspension of the constitution and requesting the federal government to vacate the capital city, which was in Buganda. Obote responded with an armed attack upon the King's palace, sending Mutesa into exile in the United Kingdom via Burundi, and in 1967 a new constitution abolished all of Uganda's kingdoms, including Buganda.
Princess Elizabeth Bagaaya of Toro
Princess Elizabeth Christobel Edith Bagaaya Akiiki of Toro (born 1936) is  a Ugandan lawyer, politician, diplomat, former model, and actress.  She attended the University of Cambridge (specifically Girton College), the third African woman in the institution's history. In 1962, she graduated from Cambridge with a law degree. Three years later, in 1965, she became a barrister-at-law, becoming the first woman from East Africa to be admitted to the English Bar.
Princess Margaret of the United Kingdom sent her an invitation to model in a charity fashion show. She was a smash hit, and soon became highly successful, being featured in many magazines. Jacqueline Kennedy Onassis met her at a party and convinced her to move to New York City where she excelled even more as a model. In 1971, Obote was overthrown by General Amin, and Elizabeth returned to Uganda. In 1974, Amin appointed her minister of foreign affairs. At one time, she gave a keynote speech at the UN General Assembly which landed her on the front page of the New York Times.
In February 1975, Elizabeth escaped to Kenya, then to Vienna, then to London after her relationship with Amin went bad. The president had accused her of engaging in sexual activity with a man on a plane whilst on her numerous trips abroad.
Four years later, she returned to Uganda to help with the country's first free national elections, which were won by Obote, whose second term ended up being no better. Elizabeth and her lover, Prince Wilberforce Nyabongo, son of Prince Leo Sharp Ochaki, escaped to London in 1980 and married in 1981. Finally, in 1985, Obote was overthrown and following a brief period of military rule, he was replaced by Yoweri Museveni. In 1986, Elizabeth was appointed the ambassador to the United States, a job she held until 1988. Later that year, Nyabongo, an aviation engineer, was killed in a plane crash at the age of 32. She decided to leave public service and concentrate on her charity projects.
Which other Ugandans have powerful stories that can make Hollywood-worthy movies?  Sound off in the message box below.
Source: Wikipedia/ Monitor.co.ug
Cover Photo credit: Aamito Lagum walking for Zac Posen New York Fashion Week 
satisfashionug@gmail.com