Flair Magazine/ iLove Studio
Entertainment
Bobi Wine Forced Me Out of My Comfort Zone – Barbie Kyagulanyi
By
|
Barbie Itungo Kyagulanyi and her infectious smile star on the latest issue of Flair Magazine. She wears a green dress with an embellished collar. In the cover story she discusses her relationship with her husband newly elected Member of Parliament Bobi Wine Kyagulanyi. She talks about how she dealt with infidelity, managing his businesses and how the two complement each other.
Here are few excerpts from the interview.
On if marrying Bobi Wine was a bold decision
"I don't consider marrying Bobi Wine bold. Everything I wanted was in him. It might have looked bold on the outside, but I didn't find the decision really hard. I was enjoying it."
The boldest thing she has done in her life
"The boldest thing I have done in my life was refusing to study Agriculture in secondary school and going for music instead. My parents are veterinary doctors and they really wanted me to study Agriculture. My dad, who was very strict, asked me for five reasons why I wanted to study music. I just gave him one. I will get an A."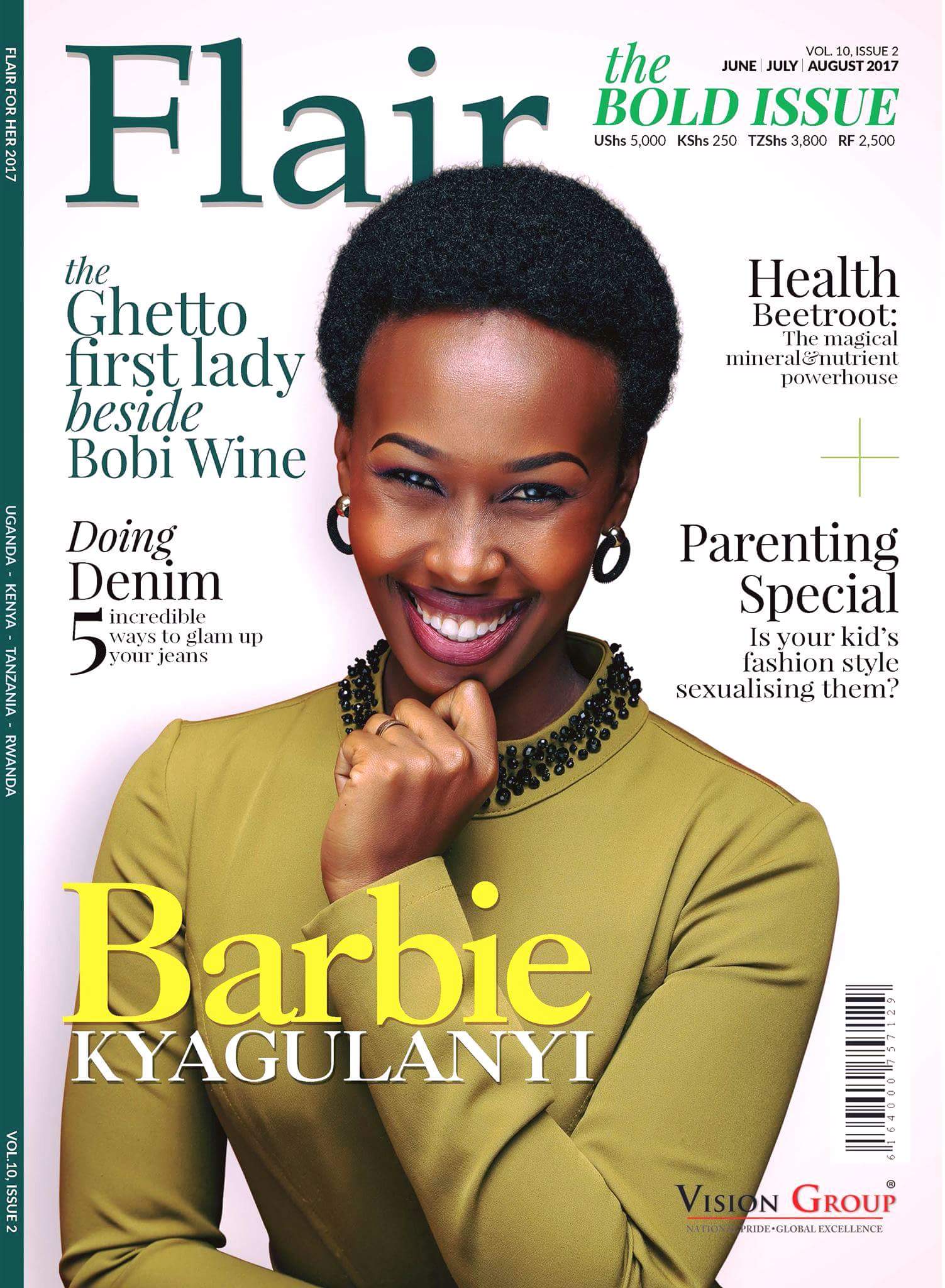 On how they complement each other
"The truth is we complement each other. Yes, I have had my influence. We come from a different backgrounds and I pushed him to become more cautious about his character. He has taught me how to work hard. Bobi will start a business and leave it for me to continue. I find myself running all the family businesses. I didn't know I could multi-task but he forced me out of my comfort zone."
On her sense of style
"Scandal doesn't like me. It is a contribution of many factors. I went to school at Bweranyangi Girls' and a certain degree of discipline was cultivated within me. Then my husband is stricter than my dad; he keeps me in line. My children are always looking at what I am wearing and see whether my clothes match what I am trying to communicate."
On how she dealt with infidelity
"The night the infidelity happened he called me. He told me something messy had happened. I told him we would talk the next morning and we talked and he owned up to the mistake. When the news of the pregnancy followed I was the first to know. That was another blow. I had to deal with myself and all the feelings. That's the level many women fail to get to. I didn't tell my sisters or my friends. It was my best friend who had betrayed me so there was really no one to tell. I prayed."
On staying in shape
"I am lucky that for all my children, I have given birth naturally. It takes two weeks for my body to completely heal and after that I begin to work out. I'm also lucky that many of my husband's friends are boxers so I usually ask one of them to help me with training. I have always used boxing to get back in shape. I take my workouts seriously because I have to eat enough while I am breastfeeding and yet I have to avoid piling on more weight."
The new issue of Flair Magazine is on newsstands now.
Photo credit: Flair Magazine/ iLove Studio
satisfashionug@gmail.com