Entertainment
Exclusive: Sheebah Karungi is Satisfashionug.com's Person Of The Year For 2016
By
|
With monster hits ripping through music charts all over the country, an MTV Africa Music Awards nomination and a sold out concert to her name, Sheebah Karungi has distinguished herself as the hardest working woman in the entertainment business this year. But with all this success, it would surprise you that 10 years ago, she wasn't even sure she could sing and entertain a crowd!
It all began when at only 15 years old, she and a friend left home to visit a nightclub in Bwaise, a Kampala suburb. It's there that she got an epiphany after admiring the dancers on stage, whose charm had everyone in the audience cheering on. She was deeply convinced that entertainment was what she wanted to do for the rest of her life. The opportunity to become a professional dancer was available, and she took it on. "It felt like a destined coincidence because my dream was to become one of the best dancers in Africa," she told Ugo.co.ug in 2015.
She dropped out of school, left home and joined Stingerz, a group that offered her the opportunity and platform to be a professional dancer in 2006. However, quitting school and leaving home didn't come without challenges. "I would sleep at my friend Yasin's place. He was our neighbour in Kawempe – Tula. At other times, I would sleep at the Stingers' house in Kyebando. I was young and working in a huge industry of users, manipulators, bad-hearted people and drugs everywhere," she would tell Sqoop Magazine in 2014.
These challenges didn't stop her from working towards realizing her dream of becoming a star. Soon later, she was spotted and recruited by Obsessions, the best dance group in Kampala then. Leaving karaoke dance for a fully-fledged entertainment group with a number of hit songs on the radio seemed like a dream coming true for her, but with it came even tougher challenges.
"They wouldn't take a newcomer as their own. There was a lot of bullying and undermining. I think this was because they had already done their hit song, 'Jjangu' that they didn't take me to be worth being one of them," she told Chimp Reports in 2015. "I lost my confidence and innocence; especially because of the experience through which many young people in the limelight go through – the way the world slaps you with a lot of hate when you are still very young."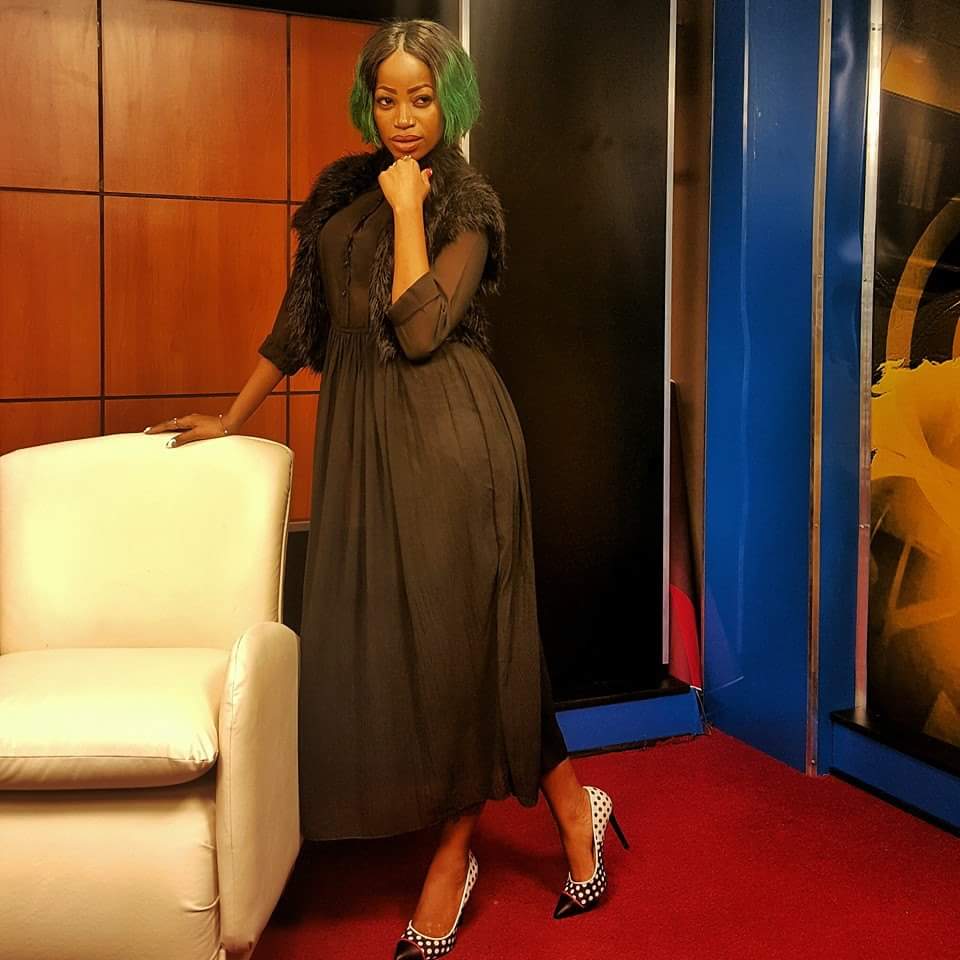 Challenges aside, it is with Obsessions that she cut her entertainment teeth. "The performer that I am today is partly because of the foundation I got from Obsessions. They were good, "she admits. That's when everyone began noticing her. She was a fairly chubby light skinned girl with a stealing demeanor that caught everyone's attention in an instant. This was everything the other girls in the group were not, automatically making her an outcast.  After just three songs, she quit the group to pursue a solo career in 2010, this time not as a dancer, but a singer and performer.
With the trials and competitiveness of being in a group out of the way, she thought it was going to be a smooth sail going forward. She was very wrong!
The first time I saw Sheebah in person was in 2011.  She was backstage at a concert haggling with a concert manager over a spot to perform. She was dressed in a black leather leotard paired with a wavy hair-do, an ensemble which in my opinion, made her look every bit like a star. But, the concert manager wasn't impressed. In fact, I'm not even sure she performed that day. He probably wanted hit songs, and a name to go with, everything she didn't have. She later admitted in an interview that she recorded more than 12 audios and 9 videos before getting noticed.
In 2010, she released 'Automatic', a collaboration with and also written by Sizzaman which did well on the charts. The two singers developed a great relationship that culminated in him penning her breakthrough hit single 'Ice cream' in 2014. And that's when everything changed. The sound of the song was cheesy, bubble gum to the say the least, but with lyrics littered with sexual innuendos as its only selling point to the market. Critics wrote the song off before it even took off declaring it a 'complete joke'. But shortly after the music video of the song was released, her critics were in for a shock. In only a week, the song had become a monster hit, with a good rotation on radio and TV. With this success, Jeff Kiwanuka, the man behind the careers of the likes of Radio & Weasel and Jose Chameleon, agreed to become her manager. And the rest was history!
Shortly before 'Ice Cream' was even off the charts, her new manager introduced her to Pallaso, with whom they did two club anthems 'Mundongo' and 'Go Down Low'. She later released her second hit single 'Twesaana' and her star status shot through the roof. Twesaana was a love song that had all these infectious lyrics and to top it all, it had a more mature sound which suited her vocal abilities perfectly. It was evident that she was cultivating her own new sound, one that Ugandans would later deeply fall in love with.
Flash forward to 2016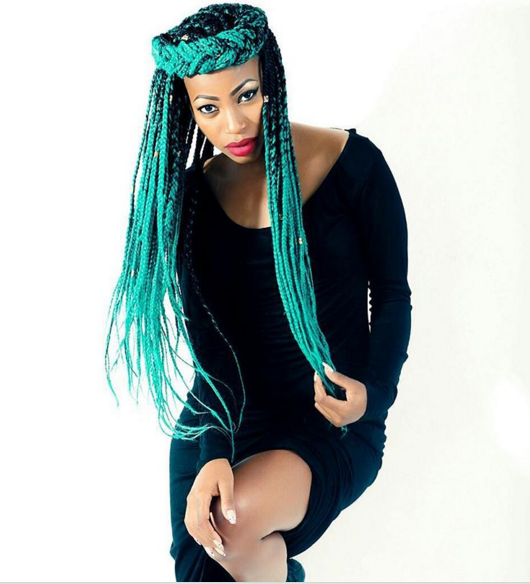 This year she has transformed into a formidable star with more hit songs on the rotation than any other singer in Uganda. She kicked off 2016 by bringing the heat with the infectious 'Nkwatako' that had everyone in awe because of its 'different sound' and raised her creative bar even higher with 'Kisasi kimu' where she pays homage to fallen singer and friend AK47. Unlike many artistes in Uganda who shun collaborating with up and coming singers, Sheebah thought otherwise and partnered with many youngsters elevating their careers to unimaginable heights. 'Farmer (remix)' with Ykee Benda and 'Wadda wa' with Chozen Blood are some of the hit collabos she has done. She's ending the year with 'Akkuse' which was only released weeks ago but is already enjoying enviable airplay on radio and TV.
Early this year, she was tapped by telecommunication giant Africell Uganda as their new brand ambassador, a role that has had her feature in their brand communications and advertising. Their relationship went as far as working together on her music video for 'Goodbye'. She has also bagged endorsement deals from Natna Natural hair a hair piece brand, Idroid Africa and a number of other brands.
In September, she broke the news to her legion fans on social media called 'The Sheebaholics', that she had snagged a nomination at the MTV Africa Music Awards for her her video 'Kisasi kimu', something that put her against some of the biggest acts in Africa. She had once again disproved her critics!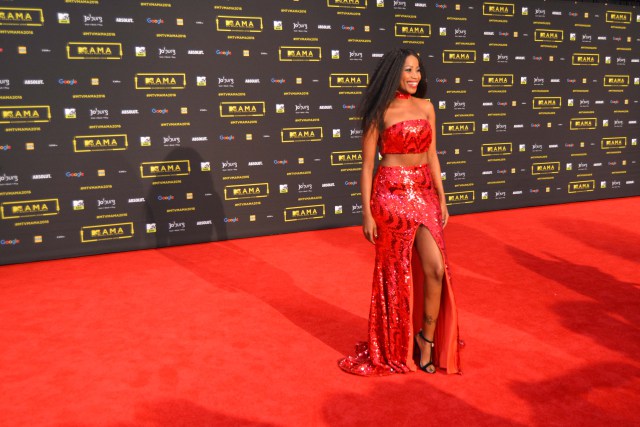 Clad in a sparkling sequined dress, the singer who had wandered out of her mother's home in Kawempe to chase her dream 12 years ago was invited onto the MAMA awards stage in Johannesburg South Africa to present an award in front of thousands of guests in the audience and millions of viewers from across the continent. "This was an unforgettable moment. I didn't win the award but left the event a winner," she later told Douglas Lwanga in an interview on NTV The Beat.
Not afraid of challenges, and charged by her hunger to achieve more, she landed a small role in the Walt Disney Pictures production Queen of Katwe, which premiered across the globe this year to rave reviews. She didn't stop at that, when personal friend singer Rema Namakula approached her for fashion advice as she was putting together a concept for her new music video, she put her styling genius to use and helped the 'Lean on Me' singer put together wardrobe for her most stylish music video yet 'Kilungi'. The video even made the list of the most stylish music videos this year (check it out here in case you missed it). This unique ability to dabble in everything creative makes her a complete superwoman.
In an interview with The Observer in 2015, she was asked if there were any plans to hold a concert, and she was totally clueless. "I don't know when I'm going to, but I'm taking one day at a time. I will see how it goes. It will come at the right time," she offered. Little did she know that the right time was just a couple of months away!
Early this month (December 2016), after churning out some of the biggest songs of the year, she finally held her maiden concert at Hotel Africana. This concert broke records and proved that her hard work over the years is finally paying off.  The first sold out concert by a female artist; the first concert in the concert venue's history to attract such a huge crowd; the best concert of the year in terms of delivery and much more.
This prodigiously talented 27-year-old star is only just started. "In the next five years, I want to be bigger than what I am today. I want to travel and perform all over Africa and beyond. I want my music to explode! So, hopefully, if God wishes, I will be there, "she shares. She's poised to release an album next year, and perhaps dominate the charts all over the continent.
Sheebah's story is that of a rebel, a terribly fearless fighter who has managed to realize her dream despite the many challenges cast upon her. She has shown the power of music in her ability to command strength through self-expression; the power of perseverance through her powerful story and she's also living proof that you can achieve just about everything you want, only if you work relentlessly hard at it.
This is why she's Satisfashionug.com's Person of The Year for 2016.
See the full list of the 40 Movers & Shakers of 2016 here.
hassan@satisfashionug.com