fashion
Fashion Insight: Vogue Italia the most influential fashion magazine in the world
By
|
Fashion magazines aren't a piece of cake to Ugandans and this is evident. Just count for me the number of Ugandan fashion magazines you've run across. Our reading culture is quite saddening in every right. Our fashion taste is a curious one though. Ugandans will jump on any trend only to turn it into a fad in a matter of weeks. We love ourselves for that.
Today I decided we fly off to Milan Italy where fashion  lives. Milan has grown to become the world's capital of fashion thanks to their controversial Vogue edition. Vogue Italia works symbiotically with local designers and their very popular fashion week. The  result has been the most powerful fashion city being Milan.
Vogue Italia is the least commercially successful Vogue edition in the world with a modest readership of 140,000 readers only (US Vogue is famed to have over 1.6 million readers a month)! Their approach is avant-garde and to a huge extent organic. They are however the most controversial fashion magazine in the world with countless controversies to their name.
Popular blogs have bashed them deeming their editorials "tasteless and offensive". They approach fashion in almost all angles from slavery, homelessness to poverty and ecological devastation. Through fashion editorials, the magazine tackles issues in the most hair rising of ways. Take the example  the 9/11 bombing inspired editorial that had models draped in designs by Dior and Cavalli while being dragged by cops. It was a brilliant concept that was met with lots of controversies.
Model Hillary Rhoda in the 'State of Emergency editorial.
The war in Iraq was given it's own fashion serving with an editorial that had nearly naked models camped with sexually charged male models. With the title "Make love. Not War" there was less left for us to imagine. The female models draped in A list designer names such as Louis Vuitton had their fair of this in the company of male models in full military gear.
The result was a backlash from bloggers around the world over the glamorizing of the war in Iraq. They claimed that the magazine was taking the war so lightly. Franca Sozanni the editor-in-chief of the storied fashion magazine was not beaten by this criticism.
Glamor and fun in a war toned camp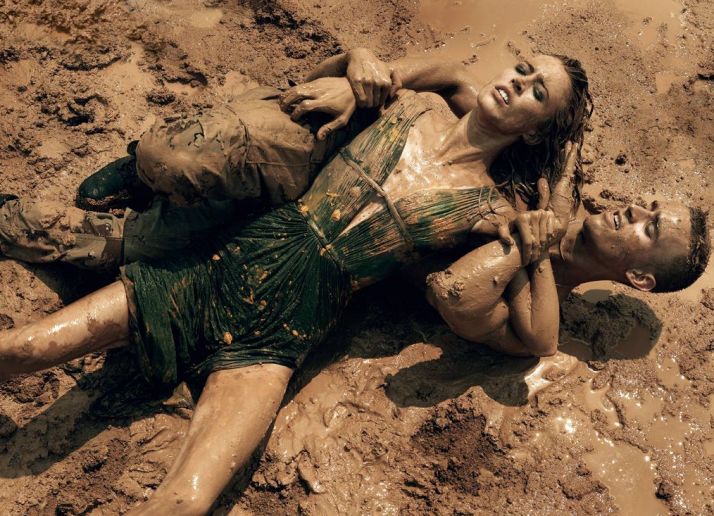 Just as the editorial was titled Make love Not War
I regard this as a very provocative but yet influential editorial. Fashion is not  trivial. Fashion is a powerful business.  Many people's eyes were opened by the Iraqi war by this editorial. No one in the Iraq wanted the war to end yet yet countless lives had been lost. What did you expect Franca to do?
The magazine went on to glamorize the BP oil spill that affected the Gulf of Mexico. While politicians were verbally assaulting each other, fashion's only force pushed it's way through with another hair raising editorial. Titled 'Water and Oil', the editorial had model Kristen McMenamy abandoned as a survival draped in over priced clothes drenched in oil. At some point the model chocks on the oil dripping into her mouth.
Whilst Vogue Italia is seeming a controversy itself, it has been applauded over the celebration of models of colour. Franca has been in Uganda on a mission to write about African designers and other influential people. Our own Queen Sylvia Nagginda and the First Lady were featured in the magazine.
The Nabagereka Sylvia Nagginda was featured, she talked about how she's using her royalty to have positive influence on the people in Uganda.
The magazine got a lot more than it asked for they when the All black issue was released in 2008. According to casting directors, black models do not sell magazine and neither do they influence buyers during fashion week. Franca was pushed by this same notion to do an all black mag just to see if this was true.

The magazine ended up selling out upon its release. A reprint was made and it sold out too. This became the most successful fashion magazine issue in history. It featured Alek Wek, Liya Kebede, Jordan Dunn, Iman, Tyra Banks, Naomi Campbell and our own Kiara Kabukuru among other black models.
The magazine had only black models on the cover and in the fashion spreads.
This is the most wanted issue ever.
Vogue Italia is a force to reckon with indeed. There was a time our own African woman magazine was becoming influential  something that probably boosted it's popularity. Magazines should offer more than what meets the eye. Fashion itself shouldn't be taken so seriously. It is not going to cure cancer or something. It's simply fashion.
Vogue Italia itself is taking this to a very different level. The most influential fashion magazine indeed.
satisfashionug@gmail.com