Career & Money
 How Grace Nafuna Amarachi is growing her fashion blog into a big brand
By
|
Welcome to a new series 'Fashion At Work', where we talk to people earning a living in the fashion industry in Uganda, how they are thriving at what they do and the challenges there-in. Fashion is a fast-growing industry offering a wide range of employment opportunities to Ugandans. Fashion At Work is highlighting some of the talented Ugandans working in it.
Fashion blogging is fast becoming a huge influencer of trends, the 'it-designs' and the designers behind them. Grace Nafuna Amarachi is blogging her way to stardom, with plans to expand her brand to include events and her own fashion line. Her blog focuses on celebrity style infused with local fashion. In this interview she talks about her inspiration and how to succeed on the blogosphere.
When and how did you realize you wanted to work in fashion?
I've always been fascinated by art since I was little. Way back in primary school, I would draw sketches just for fun, like beautiful women in gowns. Then, in high school, I won a couple of beauty pageants thanks to my creativity and intelligence. I guess that's when it hit me that fashion was really my destiny.
What inspired you to start blogging?
I started blogging as a hobby, passing time when I'm not working. That was immediately after university in 2013. I had just started working with Newvision as a lifestyle and entertainment writer. I guess I was inspired by the huge passion I have for fashion.
How many people do you engage every month?
The numbers have been amazing, I wouldn't disclose the figures though. When I started, just 200 views a day would make me scream. But, I'm more than humbled with the reach I have now, it's not very easy to grow a community online.
 Have you monetized it yet?
It's still a passion project. Money has never been a driving factor for anything I do, otherwise I would have dropped it long ago. There's nothing as fulfilling as doing something you love.
Globally, fashion bloggers are now huge influencers in the industry, launching fashion lines and sitting front row at shows. What do you think is the role of fashion blogs in changing our own industry in Uganda?
Fashion blogs aren't many here by the way, but I think the few of us doing it should relay relevant information on style and trends, and integrate it with our own culture, so as to appeal to the local crowd and also support local talent. As a blogger, it's important to know your reader, what they like reading about and curate news and information that suits their taste.
You've shared above that you design clothes and have dreams of launching your own line. You also do events, how has it been for you growing the physical footprint of your brand?
It's not easy, and takes lots of extra hours. But you must realize that you've been blessed with so much and have the responsibility to share it with others in whichever way you can. Everything fashion related. That's what I'm doing now to the best of my ability. I'm only trying to build the Amarachi brand.
Tell us about your upcoming event..
It's the Kampala Fashion Explosion which has been a dream of mine for a long time. The aim is to create awareness for new talent that might not be getting exposure: up and coming designers, artistes, m­odels, stylists and makeu­p artistes. As someone who works in media, I meet many talented fashion designers whose work is not getting exposed, so I just want to give them a platform to go out there and shine.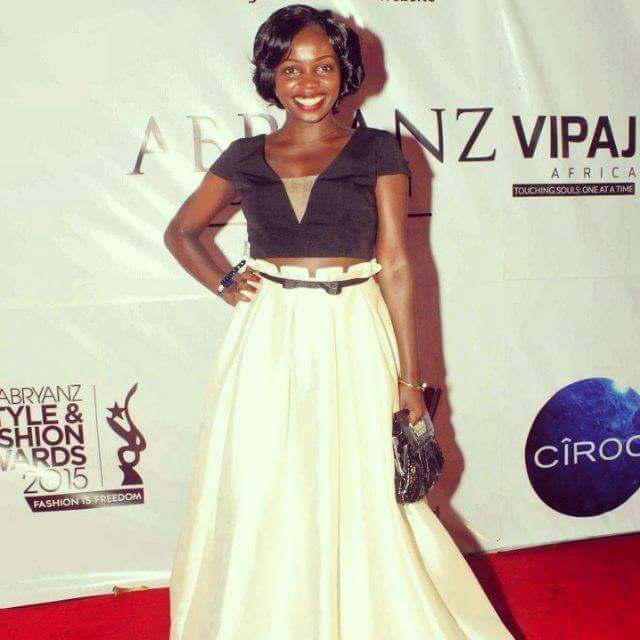 Amazing! Are there any challenges you face as a fashion blogger?
Blogging is quite time consuming and requires plenty of research, but I'm not complaining. I love what I do and that's what matters most.
And any challenges you face working in the fashion industry in Uganda generally?
I must say I've been quite lucky, I haven't been challenged much. I've been well received by my peers. I've had a smooth trail. People must know that it's not different in other fields of work. Overall, I just wish there was less pettiness, more professionalism and unity. Together we have the potential to dominate the fashion industry in Africa and the world.
Let's talk trends now.  Which fashion trends are set to blow up and take over?
The fur sole is catching on very fast and the fedora hat will always be a classic. Choker necklaces are also very hot right now.
 Which local designers are you stalking lately?
Anita Beryl, Olivia Nanfuka, Fatuma Asha are doing a great job.
Do you have any bloggers whose work inspires you?
Claire Sulmers of Fashion Bomb daily is everything.
So to close this. What advice do you give someone out there who wants to do what you do?
It's simple, be passionate about you do and only blog about what you love. That way, you will never feel like giving up.
Check out Grace' blog here.
This interview has been edited and condensed.
satisfashionug@gmail.com