Men's Fashion
Lingerie For Men is Now on The Market
By
|
Lingerie is a multi-billion-dollar industry built on a sky-high pile of push-up bras, seamless underwear and thongs that your mother hates. Thanks in large part to Victoria's Secret, it's been women alone who have been marketed to when it comes to silky, lacy, provocative lingerie created to ensure that all of your assets look top notch.
That is, until now.
Gay men have been wearing thongs and other traditionally feminine underwear for a long time, but it's never been made to appeal to a straight woman. At long last, underwear that looks "feminine" is being marketed to straight, cisgender men, not for the purposes of crossdressing, but for the sole purpose of looking sexy — and dude-ly — as hell. In other words, men may finally understand just how tricky it is to wear lace and not rip it to shreds.
And you know what makes it even better? The first company that's tapping the men's lingerie market is called "Menagerié," because who says your underwear can't have a sense of humor?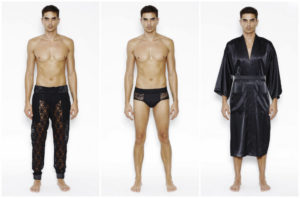 "Created to revolutionize how men feel about their intimate apparel needs, Menagerié intends to change the way men think about their underwear and how they can look in them," the brand's website reads, by "providing a unique collection of lingerie exclusively for men."
Menagerie's first collection consists of black satin and lace briefs, boxers, boxer-briefs, robes and button-down shirts that the company calls "formal nightwear." Although there is certainly more room to be creative, this is at least a start.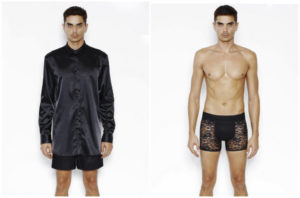 "Designing has always been in the back of my mind. When I decided I was ready to pursue design, I wanted to develop a concept that wasn't heavily explored," Roman Sipe, Menagerié's founder, told Refinery29. "I decided that I would start in my own closet when looking for ideas. What was missing? Was there anything I didn't currently own that I wanted?"
The answer to that question was, of course, "lingerie." Although high-end designers like Versaceand Calvin Klein have created satin and lace underwear for men before, there was no easily accessible, quality and stylish brand for men who wanted to spice things up in their underwear drawer. Before Menagerié, the closest thing to high quality lingerie targeted towards cis straight men were cutesy thongs that made a man's genitalia look like an elephant's trunk.
Source: Mic.com
satisfashionug@gmail.com