Beauty
Malaika Nnyanzi on Her Beauty Rules and Why Her Mum is Her Beauty Icon
By
|
Malaika Nnyanzi is a TV personality, model, actress and event host. This stunning show host of Fashionista and Urban Today on Urban TV is well equipped with fashion and beauty tips, not only because it is her job to have them, but also because she's been modeling since she was a teenager. She'll be hosting the Uganda Entertainment Awards next month, which is a huge deal because South African fashion icon Bonang Matheba will be the red carpet host of the event. It's safe to say, Malaika is an incredibly busy woman, however, she still took time out to share her beauty secrets with Satisfashion UG.
My skincare routine is …..
I wash my face and apply fair and lovely twice a day. I have done this since 2009 consistently and it has worked for me. I don't experiment much with products.
My hair care routine is …
My hair is 100% natural (meaning it's not relaxed or textured). I wash it every 2 weeks. Use Venus hair oil on the scalp only. I am very strict about the amount used (it must be very little because our hair produces its own natural oils so putting a lot damages it). I cut it in 2014 so I braid (cornrows, weaves and long braids) it a lot so it grows.
My signature scent is… 
Lately for a body splash it's Bath and body works Pink Chiffon and Mad About you.
For perfumes it's Bvlgari and Versace. I am particular about scents. I like a specific kind. I can't explain it, I can only smell it and know.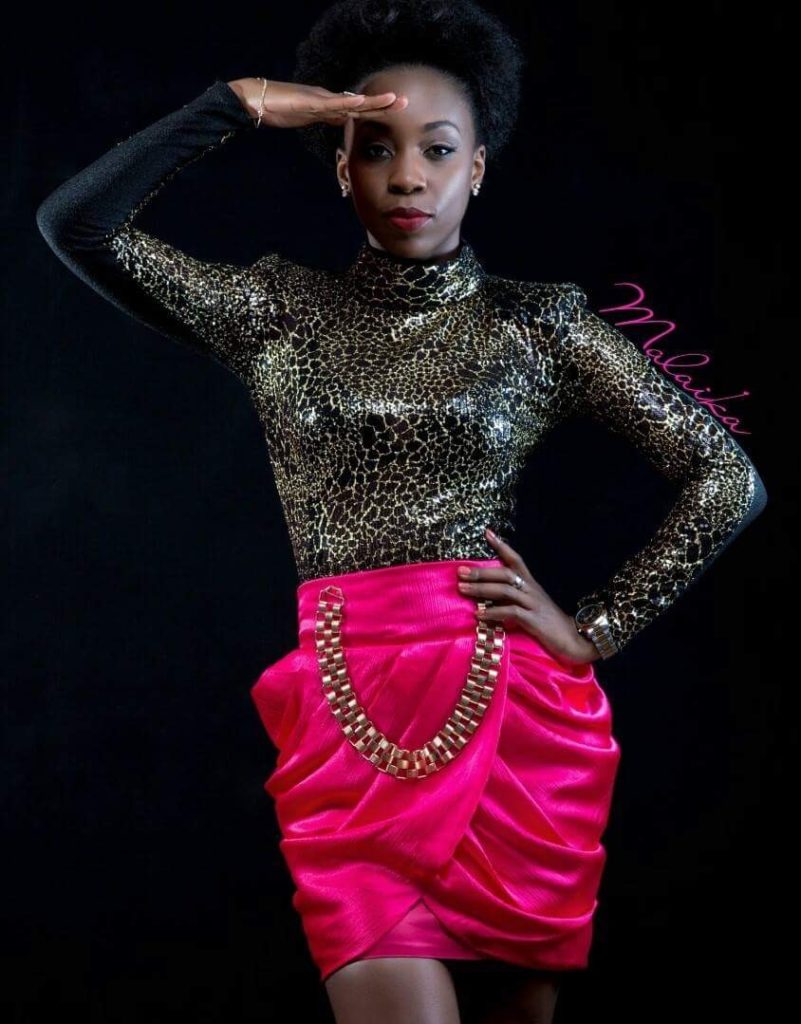 The skincare products I can't live without… 
I can live without skincare products. I am not so keen on them. But if I must choose I would say the only one I use, fair and lovely.
The beauty tip I got from mum that I live by …
She was very strict about washing her face (she has beautiful skin so I listened lol). Also drinking water.  And she really doesn't like make up so I grew up not liking it either.  When I started modeling she insisted that I must never sleep with it on.
My makeup essentials are…
Mascara and lipstick: I have an early morning TV Show so I have to look alive so I don't scare the viewers 😂 it's not easy because I'm not a morning person. But mascara opens up my eyes and the lipstick gives my full lips a pop.
The hair products I rely on…
Venus hair oil. I've used it since 2002.
On health and fitness… 
I don't work out😕 (so it is by the grace of God that I am the way i am). I get so busy, but also I am lazy. (I take the elevator to the 1st floor🙈 )!  I want to change that though. I want to start working out. Fitness is for the mind and soul as well  (so I have heard )!
My beauty icons are … 
My mum. She is sooooooo beautiful. The definition of black beauty. She doesn't even try! she just is. Growing up in a world where most people think that the lighter the skin, the prettier you are,  I am blessed to have grown up seeing a very beautiful dark skinned woman and knowing different.
Lipstick or Lipgloss ...
Lipstick every day
Smoky eyes or red lipstick ….
Redlipstick
Fully made up or No Makeup…
NO Makeup (I only get fully made up for big events)
This interview has been edited and condensed
satisfashionug@gmail.com