Style
My Style: Cate Ayellah – Day 2
By
|
Meet Cate Ayellah, our style star this week. Cate is a fashion stylist, blogger and casting agent living and working in Kampala. She describes herself as ambitious.  "I stop at nothing to get what I want. 'Life is what you make it' is my principle."
Her style choices are inspired by many things, for example; her favourite colours, what's in style, famous people, fashion magazines, her mood, the places she shops at, her friends or even "the impression I want to live that day," she says. She has two style icons. "Miranda Kerr who says 'stick to what works' and Nicole Ritchie who lives by 'be yourself'.
Where does she shop? "Honestly, I would be lying if I said I have a particular place I shop my clothes. You know when it comes to clothes, finding just one spot is kind of hard especially if you're a fashion lover, and plus-size at that. So I buy wherever I see what works for me."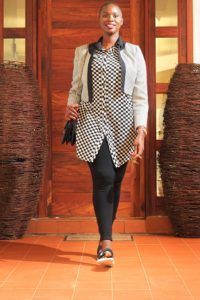 What are your thoughts on Cate's look today?
Check out her fashion blog here for more fashion.
 If you wish to be our style star next week, do get in touch.
satisfashionug@gmail.com