Style
My Style: Mercy Adrea – Day 1
By
|
Mercy Adrea is a Ugandan Law and Business student living and working in Dublin, Ireland. Fashion to her is a form of expression, and being able to share a message without actually saying a word. She describes her fashion sense as 'subtle', but isn't afraid to get wild sometimes. "It's all about the mood," she says.
Her style icon is Sarah Jessica Parker thanks to 'Carrie Bradshaw's love for shoes and Sex and the City, the series. "I'm a huge fan of the show, and also the 1930's." "My mood inspires my style choices, "she adds.
Today I'm wearing black and white because the two colours together can never ever let you down no matter the occasion it (unless it's a themed party hehe). I decided to wear this particular outfit to simply go in with these two colours. Not too dramatic, but dramatic enough to make you stand out from the crowd.
The outfit can be worn anywhere and since I am working this summer, it is important I look professional during the working hours and I can still rock this when I am heading out for a drink or 'two or three' with friends.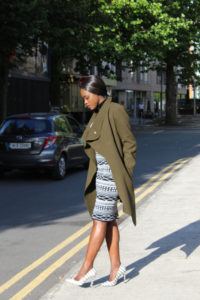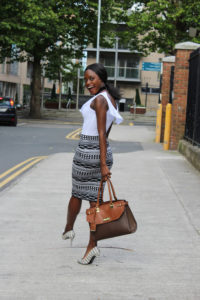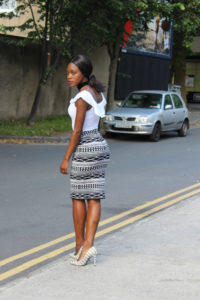 Top – Berskha 
Skirt – Penny's
Jacket – New look
Shoes – Penney's
Check out Mercy's blog here for more fashion.
What are your thoughts on Mercy's look today? Sound off in the message box below. If you wish to be our style star next week, do get in touch.
satisfashionug@gmail.com