Entertainment
Ykee Benda Talks Music, Fame and Staying Humble
By
|
With a number of hit singles under his belt and a seemingly bright future ahead of him, Ykee Benda (real names Tugume Wycliff) chooses to stay humble. "I always tell myself that I'm not yet there, and will still do five years from now. It's what helps me stay humble and down to earth," he shares. Just this year, this super talented 25-year-old singer has released 9 songs accompanied with 4 videos, all of which have been received with rave reviews. He has worked with Sheeba, DJ Slick Stuart & Roger and will be releasing a new collabo with Kenyan star Yuny Kamau next week.
Ykee Benda's style is a fusion of dancehall, RnB and pop music, which he writes himself by the way. "I do music you can listen to with your friends, have a laugh and a good time. That's what I believe is good music," he says. When asked if he knows that some of his songs have been perceived to be littered with sexual innuendos he laughs away, it's evident he's aware of this. "Life is too short to be taken too seriously. A good song is supposed to have intrigue. One should ask, what in the world did he mean by that?" he laments.  There's no doubt that this strategy is working for him. His song 'Munakampala' is on top of local charts, yet 'Farmer remix' where he featured Sheeba is still a club banger.
About how he landed the spot to work with Sheeba, he says it was an arrangement made by both artists' teams. "It's not even something I saw coming, they all wanted to a part of the project and we did it." "Working with Sheeba was super amazing. She's so positive and has a really impressive work ethic."
Despite his unwavering love for music, Ykee Benda never thought about pursuing it as a career until he was in senior three in 2007. "I was singing in church and at school, but never thought I would forge a career out of it." After secondary school, he flew to Algeria to study Chemical engineering, and only started professional music this year after completing his degree last year. Whether he hopes to put these skills to practice, he's still undecided. "I hope so. For now, music is my priority."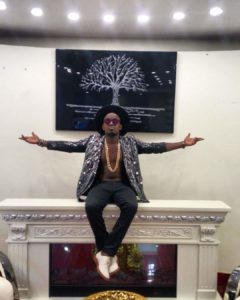 He's signed to Badi Music, the record label that manages dancehall sensation A pass. They handle his distribution, production, and management. But, working in this business doesn't come without its challenges, and Ykee Benda has had his fair share of these.
"The kind of music we do is not easy, you've got to be inspired all the time otherwise you're going to run out of exciting ideas." "And also, the problems all up and coming artists are faced with, finding good management that's loyal and also money. Music has been commercialized so much now, you've got to spend big to make it work," he laments. However, this new fame hasn't changed much about his personality. "I'm still very humble. I've got to be honest,  I've lost a few friends but I try to keep in touch with many of my friends as much as I can.
He's not such a big fan of fashion but entrusts his styling duties to Calvin Chambers, one of Kampala's young up and coming stylists. "I love to wear skinny jeans, shorts, and sleeveless tops. I like African and tribal prints." His most favourite outfit he wore in a music video was a suit in African print he wore in the 'Budumbu' music video. The suit was custom made by Paple Rayn.
What stands out for Ykee Benda is not just the catchy music, his unfiltered youthful personality and the ability to stay humble despite his successes. We're probably going to be dancing to many more of his songs. What makes this even more interesting, is the fact that, this to him, is just the beginning.
hassan@satisfashionug.com