Career & Money
Meet Isingoma Leumas Sam and Emolsa Hasacha, the creative duo behind Emolsam
By
|
Welcome to a new series 'Fashion At Work', where we talk to people earning a living in the fashion industry in Uganda, how they are thriving at what they do and the challenges there-in. Fashion is a fast-growing industry offering a wide range of employment opportunities to Ugandans. Fashion At Work is highlighting some the talented Ugandans working in it.
Emolsam is the creative brand behind some of the intriguing and thought-provoking fashion imagery you've probably stumbled upon in your Facebook and Instagram newsfeed. They've done creative direction for so many Ugandan brands and personalities, and are on the brink of a major takeover. Why they choose to publish their work on social media is solely because, good work needs to be seen, and social media is the new media. Meet Isingoma Leumas Sam and Emolsa Hasacha, the creative duo behind Emolsam.
What is Emolsam?
Emolsa: Emolsam is a brand that deals in artistic creation and editorial choreography of high fashion photography. Avant-garde is our niche' although we are all round.
Tell us about the name Emolsam
Sam: The name Emolsam was derived from our names. From Emolsa, we got Emol and my name 'Sam' to form 'Emolsam'. Our logo is a fingerprint atop our brand name signifying the uniqueness of our work.  ''we are not normal'' is our theme.
How did you meet?
We had been working with Nsubuga Ronnie of Crystal models (a modelling agency) during which we kept on complimenting each other's ways of wielding art. We came into unison in February 2015 to seriously start up Emolsam after realizing that photographers were struggling to balance artistic directing roles which photography. We felt the urge to break the stereotype that has since submerged the fashion industry that modeling was just about the runway.
Emolsa: We are both think-head creatives, however, Sam is good at conceptualizing and I'm spot on with on-set artistic direction and Image Editing. We often switch roles when need be for better execution of our work.
Why is fashion styling and photography of interest to you?
We love to tell our stories through fashion. In Uganda, fashion photography is an art in its own right that has been lacking the creative vision and thus had no artistic interpretation attached to it. The plainness and ease with which Ugandan-made fashion images (not all) gave fashion photography a struggle to be recognized unlike the enormous proportion of attention extended to commercial photography. We decided to accord editorial modeling just as much attention to switch things up. We have so far half way succeeded.
We strive to create pictures that are timeless and ooze art, creativity and professionalism. We one day want to become the African version of vogue with the stories we tell using fashion photography.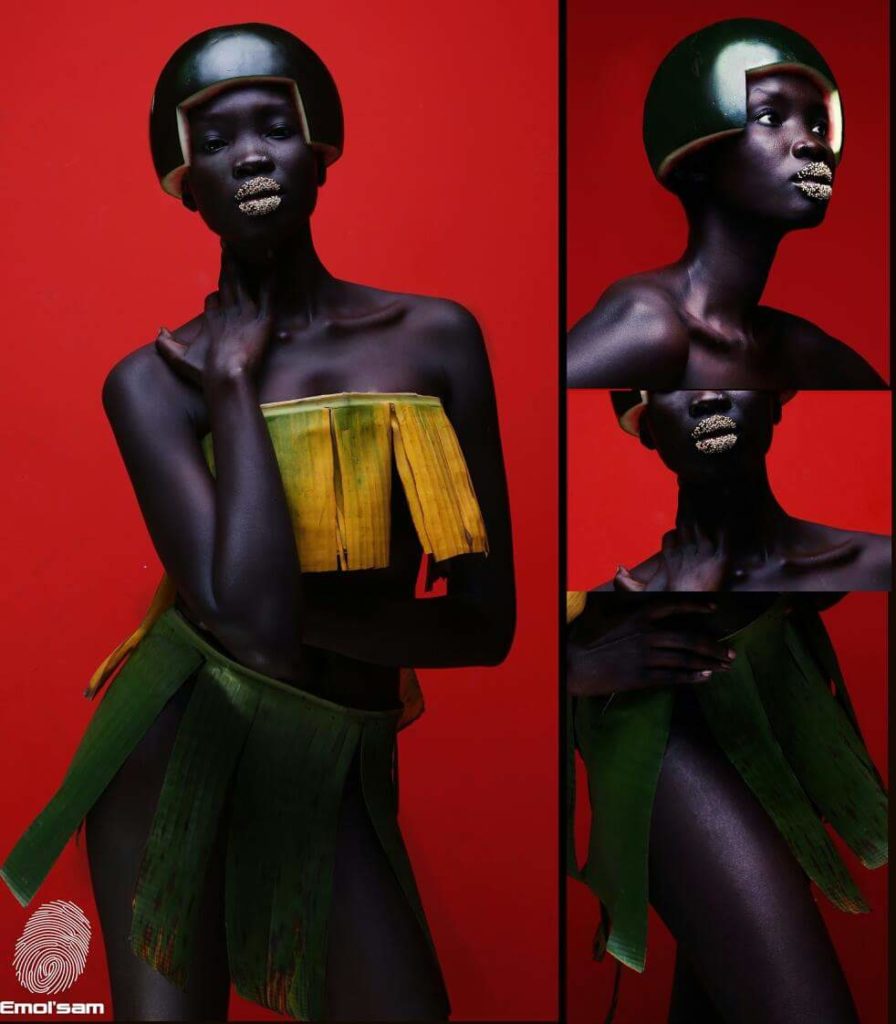 Who are some of creatives you've worked with so far?
We've worked with so many designers including Martha Jabo , K-Raphael, Abryanz, Gloria Wavamunno, Catherine and Sons and Kai's Divo collection among others.   Photographers we've worked with Giulio Molfese, Manzi Rolland, Adam Levi and Naxic Dave. We were also honoured to creatively put together Hair by zziwa's launch. We've worked with so many models, TV personalities and artistes. When choosing the people we work with, we look out for a unique aesthetic that resonates with ours rather than experience.
Do you plan on taking this to another level? Maybe go commercial..
Definitely, it will go on and on until the industry is transformed. We are already tackling different fields of fashion like show production and model scouting and mentoring. So, we are fit to say, we're already headed that direction.
Where do you draw inspiration from?
Fashion magazines with intriguing fashion imagery such as Vogue Italia, Dark beauty online magazine, human nature, music, the past and what we see in the future.
You've worked on so many amazing projects. Which projects are you most proud of?
Sam: We have quite a number.
Martha Jabo's Dare bathing suits collection and latest catalogue shoot for BOLD Kenya
Artiste Ceaserous' album ''INTO YOU'' album covers
Kampala fashion week (model training and casting)
Show production for Hijab and kanzu party
Bride and Groom magazine (Magazine cover shoot creative direction)
Hair by Zziwa launch (organizing and event planning)
KL's look book in Dar-el-salaam which was an all-expense paid trip to Dar-es-salaam

The project that stands out for me is the 'White Virginity' shoot. How did you manage to have all those models on set and style the shoot to near perfection?
First of all, we have a good relationship with most of the models working in Kampala. So we made phone calls to each and every model two weeks prior, so there was no casting involved. Shooting was not as smooth, since some models were tensed up and nervous working with us for the first time. We had to brief them about what we needed and those that could not reflect what we envisioned were cut off every after 5 camera shutters/frames. So everyone on set worked hard until they finally fell into play. But up to now, we still think it could have been better. Working with over 30 people on set can be such a pain, but not excusable, we just let them be. We strive to be better with every project.

We've seen you cast albino models. Why do most casting agents shun models from minority groups?
In Uganda, such people still face social discrimination and are called disabled. But as Emolsam, we are not normal!  We see past what society perceives as imperfect, we see art in every bit of human nature. We're working to create a new age Fashion environment that embraces imperfections, in a bid to represent the minorities. Albinos are really beautiful souls both inside and out. We scouted Martin Lubwama (the first male albino model from Uganda), mentored and transformed him into a living piece of art, made recommendations for him to designers, and his first runway show was Kampala Fashion Week 2015 walking for Gloria Wavamunno and Definition Africa. He has since walked for top tier designers, been featured in designer look books and catalogs for Martha Jabo and many other brands. He recently got signed by Malengo Foundation, a UN affiliated N.G.O for people with unique abilities (not disabilities).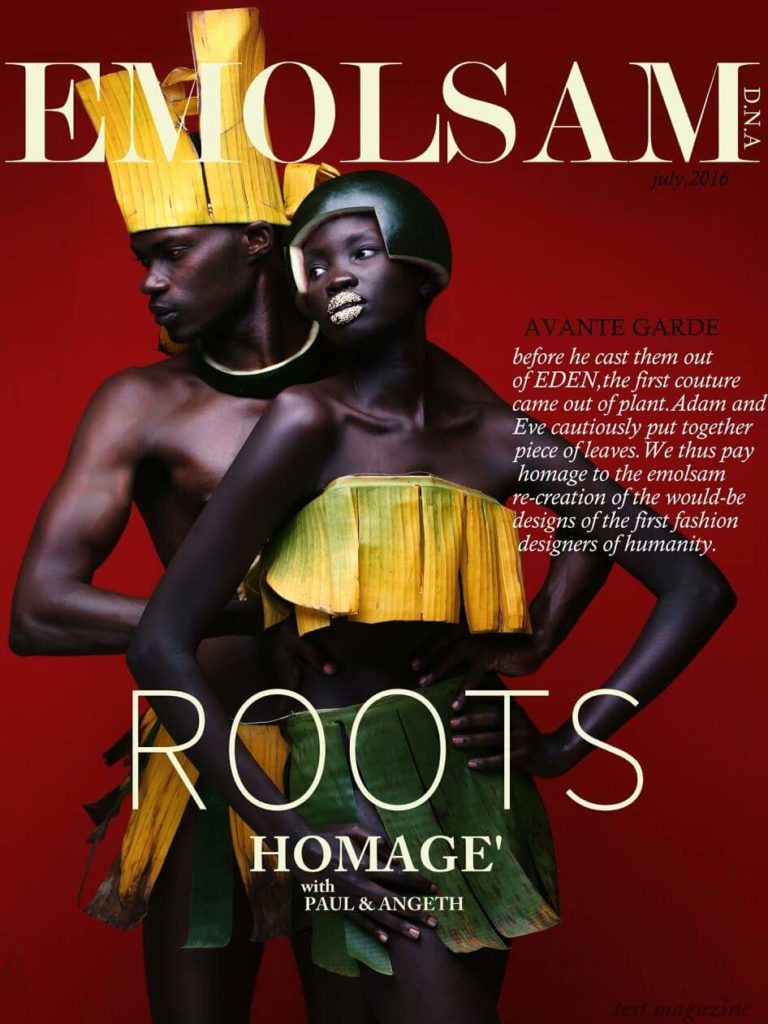 What is your take on the current state of the fashion in Uganda?
The fashion industry is slowly evolving, with people like us and many other unexploited talented new blood. It is embraced and recognized like never before. We commend and applaud the pioneers for bringing the industry this far. We like to think that if we worked together as one, and create room for new fresh minds and ideas, the industry will move a lot faster. It still lacks one thing THE COMMANDING VOICE, which is why, we are here to breathe as much life into local fashion as we possibly can.
Emolsa, you recently called out the organizers of the UEA awards for mediocrity, what is your take on awards and their impact on the industry?
Emolsa: I applaud, commend and appreciate all award franchises for recognizing other brands' efforts and surely beefing up healthy competition. However, I still think the first precedence for Awards franchises is to win the public's interest and confidence and work in approval of just that, not just be a formality. Otherwise the word ''awards' 'may lose meaning and matter, award this, award that!!!
If Awards stray from people's interest and head down the '' awards for pay'' lane or ''awards on sale', and yet we keep hyping BET,GRAMMYS and OSCARS not knowing that what makes these awards ''big'' is that they work on virtue, follow merit and are believable. That's how they have been able to keep in their prestigious lane and stand the hands of time. Public interests turn into personal interests and money minting schemes, with unthought-of  nominees nominated in wrong categories. This should be looked into. A lot more underground research should be carried prior.
What is the biggest problem you feel is making the industry lag behind? What is Emolsam's contribution to curbing this problem?
Sam: The things that weigh us down are; Selfishness: people working in fashion tend to get greedy and selfish handling countless jobs at once not let any talented third parties involved with fear of some coins swinging away. This results into sub-standard work. I often attend fashion shows graced by the same old models, same designers, same collections, same everything. It is boring!
Risk Fear bug: Fashion needs to be understood as a game of risks and cards. There's hardly any change if we keep playing safe with fashion, which is why we (Emolsam) lost any such phobia before-hand by stretching our boundaries of creativity without fear of being wrong or criticized
Emolsa: Pretense and masquerading; Often times, we encounter many people who pretend to know what they are doing or what you ask them to do yet it is otherwise. We (Emolsam) choose to work with fresh talent (laypersons) that we scout for our projects. You don't have to be good to work with us, we just have to prove you're worthy and work upon transforming you into the it.
Sam: Scam agencies. We have so many wannabe models yet there're no jobs for models or let's say the model managers do not do enough Job hunting, likewise, the models do not do enough pushing for themselves. Models ought to also know that in Uganda, modeling has not gotten to a point where it can be a full time job. Models have continued to fall victim of this.
Emolsa: There's a rising tendency that has eaten into pretty much every casting agency, where commercial castings have become a formality and scam. In real sense, the casting agents already have the faces they are looking for but still waste people's time and organize castings.
What new projects are you working on?
We have taken a new twist of fusing art with local tradition to represent and document our background and heritage.
Where do you see Emolsam in let's say five years?
We are launching an online Emolsam DNA magazine early next year (Insha Allah) but will hold an exhibition later this year. Other than that, we love to surprise our audience. We are still soliciting for sponsorship. So do support us whenever and whichever way you can.
This interview has been edited and condensed.
Follow Emolsam on Instagam here
Photo credit: Emolsam
satisfashionug@gmail.com